Resources
Guidelines for Returning to In-Person Ministry
New Member Information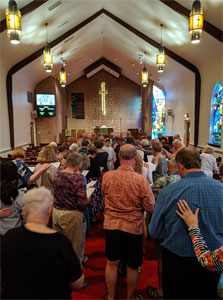 Grace welcomes you! Experience all of our worship services and find what suits you. Those interested in joining the church may participate in group or individual instruction. New members are formally welcomed (although it's really informal!) into the congregation several times throughout the year. Please complete a Time & Talent form. This will help you connect to ministry opportunities within the Grace faith community, the neighborhood and the world! Again, Grace welcomes you!
Koinonia Small Groups
Parish Nurse Services
Grace's Parish Nurse Program addresses four main areas:
Health Education, offering seminars, classes and written materials emphasizing preventive health care. We also facilitate the formation of support groups.
Personal Health Counseling, including home, hospital and nursing home visits and referrals as necessary. We offer presence and prayer during times of crisis and celebration. We offer blood pressure checks on a regular basis between worship services.
Coordination and Teaching of congregational members who are engaged in caring ministries.
Networking of Resources in the Congregation and Community to promote health and healing in all aspects of the congregation's ministry and the members of the congregation.
Contact nancy.bleuer4@yahoo.com
Parrish Nurse resource videos:
Baptism Information
Through water and the Holy Spirit, God gives us new birth, cleanses us from sin and raises us to eternal life. We are claimed by God's grace and, through baptism, we become a new creation. At Grace, we baptize at all ages. Baptisms can be held at any of our weekly worship services. Please contact the church office if you wish to arrange a baptism. Our pastor will be in touch. Come and live among God's faithful people.
Wedding information
At Grace, we invite members to plan their weddings with the support of our pastor, our wedding coordinator and our excellent musicians. If you are interested in becoming a member, check out our New Member information (Hyper link to new member page). We are privileged to be involved during this exciting time of great joy, hope and deepening love. Your first step is to contact the church office, office@gracewelcomesyou.org to get your date on our calendar as soon as possible.

Pre-marriage conversations are scheduled with the pastor several times prior to the wedding. At Grace we support you in planning music, bulletins, rehearsals and decorations. Cost will vary depending upon a number of factors, including building use, custodial fee, pastor, musicians and reception, if held at Grace. The wedding coordinator will assist with these details.

Downloadable form: Request to Schedule a Wedding
Funeral Information
We share the grief of those who mourn. We are here to give voice to your sorrow and thank God for your loved one. As soon as we hear of your loss, our pastor will reach out to you to offer pastoral and grief support. We are honored to assist you in planning a funeral service to entrust your loved one into the hands of God. Contact the church office as soon as possible, for pastoral connection. If you wish to plan a meal to gather together your loved ones following the funeral, we are happy to take care of the details with your guidance.

Contact: office@gracewelcomesyou.org
Give Online